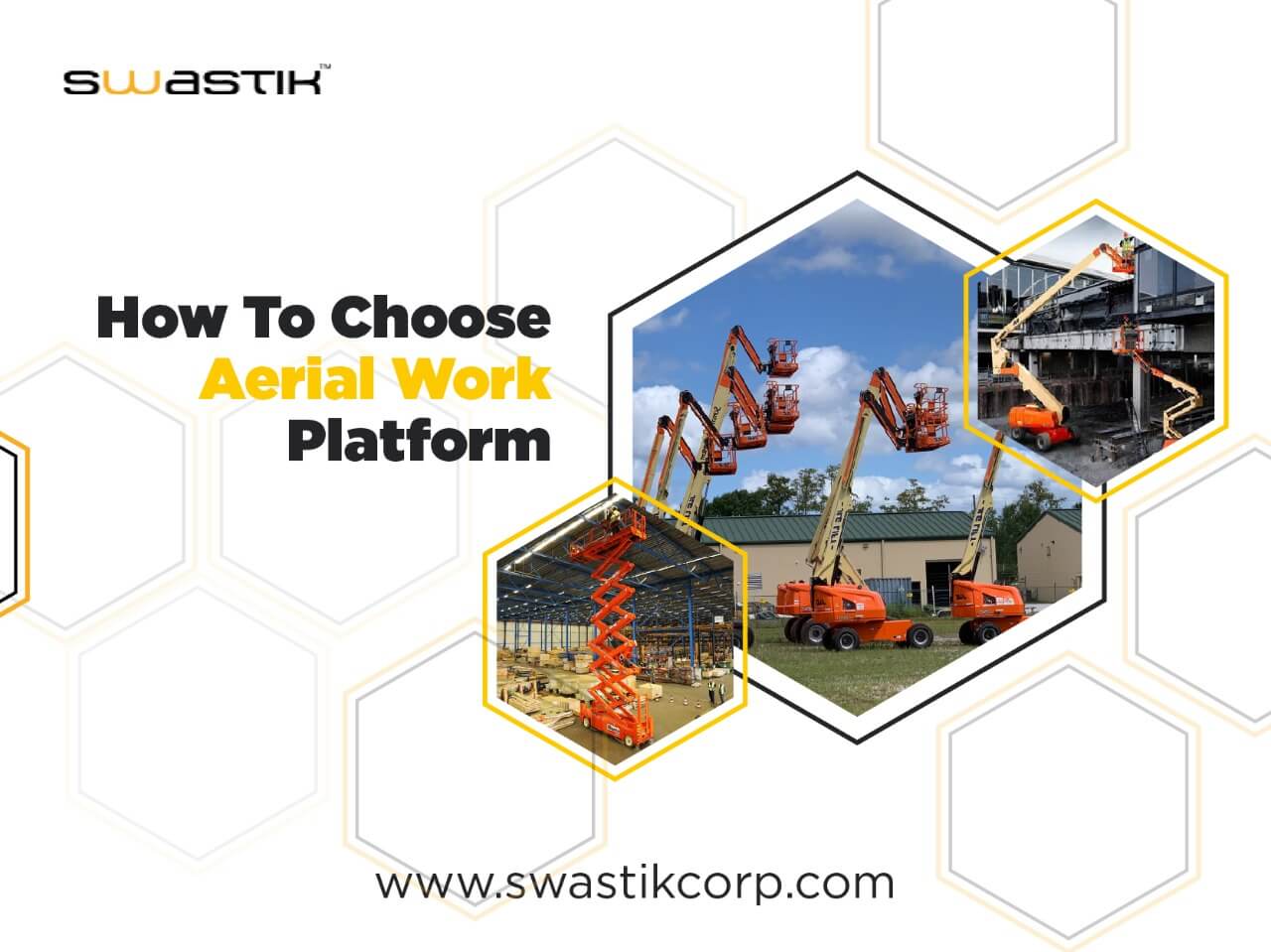 How To Select An Aerial Work Platform?
We all use Aerial Work Platforms to reach heights where the work needs to be done at extreme height. For these different types of access platforms are available based on the working nature.
The working conditions may vary based on the type of industries we are working and each industry having different requirements. Suppose a construction industry needs the maximum of work at outdoors, whereas a facility management industry needs to work indoors like the aviation industry needs an access platform of free and flexible for heights.
We have to choose the correct equipment based on industry and the nature of the work. Swastik Corporation offers various aerial work platforms that are suitable for dissimilar heights.
On What Factors An Access Platform Could Be Selected?
Here is an important list of factors that you should keep in your mind while renting an aerial work platform. If you follow these guidelines it will help to reduce the investment and time.
Height: How high you need to reach? Every AWP having a different maximum access height, based on your requirement you could select the one you need.
One should clear on their working environment, Is your work should be done in indoor or outdoor?/
Site Check, the dimension of the job site, whether it is narrow or spacious?
Ground Conditions- Is surrounding ground rough terrain or even?
How to reach heights? Do you need to access vertically upwards or need the flexibility for various heights in a narrow space?
How much weight does the access platform need to carry?
The set of questions mentioned above will create the right path for choosing an aerial work platform.
Swastik Corporation with its prior experience in on-field work makes short and clear details about aerial work platforms. The most commonly used aerial lifts are Boom Lifts and Scissor Lifts.
Boom Lift
Boom is the most flexible aerial work platform with great access reach of heights both horizontal and vertically. While selecting a boom lift for rental make sure about the type of boom lift need, what are the workspace conditions? And the type of power supply.
There are two major types of boom lifts based on their working method those are articulated boom lift and telescopic boom lift. Based on the type of power supply boom lifts are categorized into two types. One is electric Boom Lifts and the other one is a diesel-powered boom lift.
This articulated boom having sections that allow fixing work at flexible heights for the job done. The arm can be adjustable for vertical and horizontal manner. The electrical boom lifts are used for indoor works of even surfaces, while rough terrain outdoor works can be done through diesel-powered boom lifts. Using the articulated boom lifts the maximum vertical reach is 125 ft.
Telescopic Boom Lifts are also used to access heights like articulated boom lifts, whereas the telescopic boom can work as a straight and stick type accessing platform.This can extend only in the vertical direction, and the telescopic boom lifts will reach maximum vertical height compare to all boom lifts. It can reach a maximum height of 185 ft.
Scissor Lifts are also one of the majorly used aerial lifts. Which are used to reach the vertical direction. Scissor lifts can be used to move personnel vertically up, or downward directions. The type of scissor lifts can be categorized by the type of power supply. Electric Scissor Lifts are most preferable for indoor work of even surfaces, because of their zero-emission and non-marking tire specifications.
Diesel Scissor Lifts are suggested for outdoor workspace having rough terrain. This type of scissor lifts can offer a large aerial work platform where you can easily carry the manpower and the materials.
Swastik Corporation helps you to choose the perfect aerial work platform for your job done at heights, with our wide range of aerial work platforms rental services. We provide the trained operator or will give you the professional training, as you are working at heights the safety comes the first.
Are you seeking for aerial lifts rental service, get a free consultation with our experts.
Author