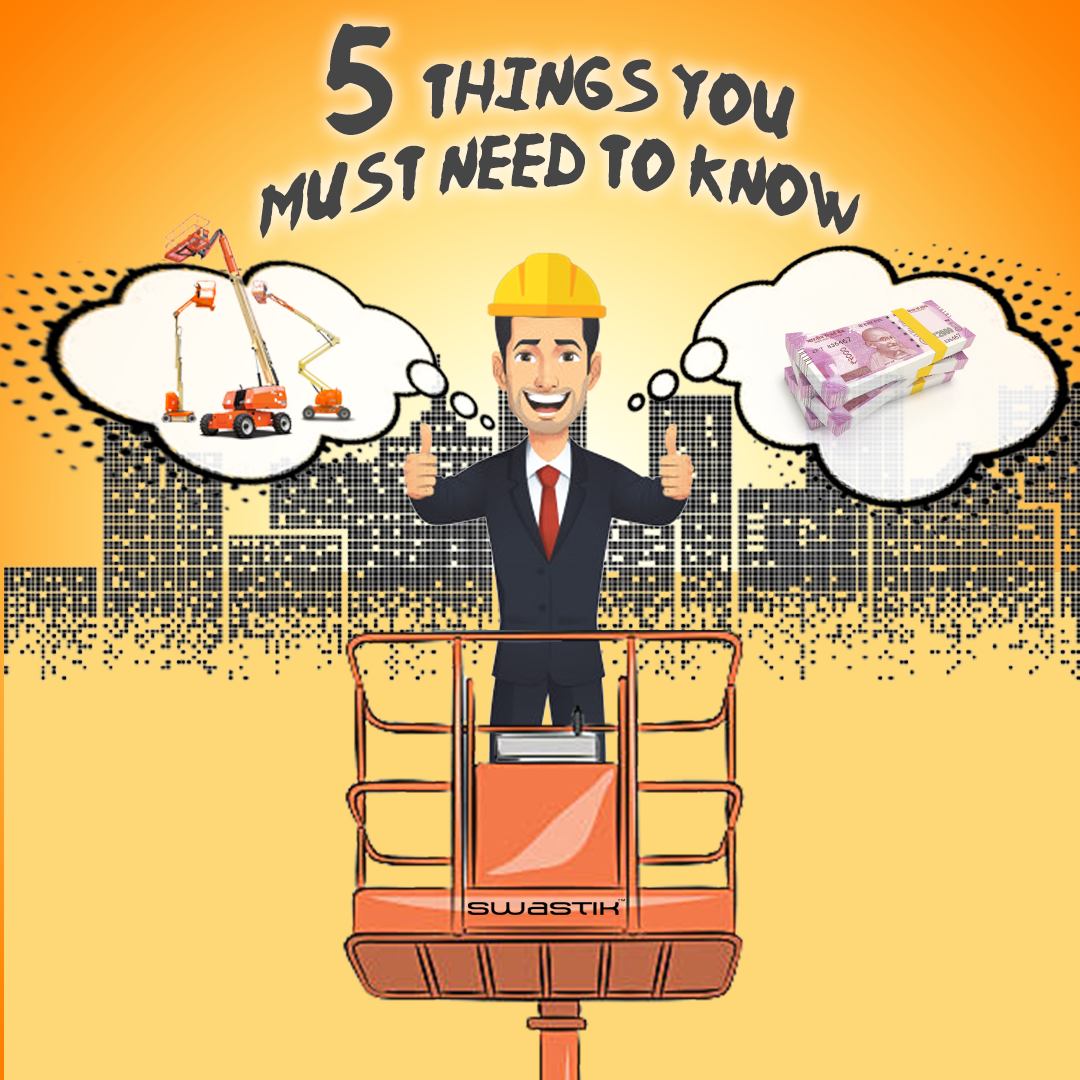 Synopsis:
Boom Lift- Everything You Need to know
Globally, Industries are a powerful sector that has versatile projects hard to reach with heights to make fine finishing details. Many sectors prefer aerial platforms to manage their diverse needs.
Boom Lift is an Aerial work platform, which allows vertical and horizontal height. It is also called man lift or cherry pickers which can surpass in any direction.
This equipment is widely used for outdoor applications, construction sites, and industrial tasks.
In this article, Let's see in detail the types, applications, and price of boom lifts in India.
Types of Boom Lifts:
Articulated Boom Lift: This type of boom lift has arms that bend and move flexibly in circular direction around objects.
Telescopic Boom Lift: This type of boom lift has straight arms to reach heights.
Atrium Lifts: Atrium Lift or crawler lift is a special type of boom lift to reach on air up and downwards. It is alternatively used for scaffolding.
Difference between Articulated and Telescopic Boom Lift:
| Articulated Boom Lift | Telescopic Boom Lift |
| --- | --- |
| Aerial work platform with knuckle arms | Aerial work platform with straight arms |
| Reach heights upto 18ft to 126ft | Reach heights upto 45ft -85ft |
| Can use under confined spaces | Can use when longer reach is required |
| Reach over and ground | Reach greater height |
| Operate under electric and diesel type | Operate under electric and diesel type |
| Works on Rough terrain | Works on Maximum terrain |
| Used for indoor and outdoor use | Used for Exterior purpose |
| Less Maintenance | Less Maintenance |
Advantages of Boom Lift:
Articulated works on 360-degree rotation
Telescopic works on rough terrain
Both Lifts can be used in Indoor and Outdoor use.
Flexible boom movements and automatic leveling
Wind speed indicator
Emergency stop functions
Disadvantages of Boom Lift:
One major disadvantage of a boom lift is harder to operate in tight spots. To overcome this, we have wind speed indicators, emergency stop functions, ground control,and multiple backup options.
Industries Serving Boom Lift:
Agriculture / Landscape - gardening: Aerial work platform that helps you to perform tasks for landscape utilities.
Aerospace or Aviation: Man lift that helps the workers to position the jet engine, repair, maintain, and assemble aircraft.
Commercial or Retail industry: Manage the products on the retail floor, warehouse or inventory control, hotel, office building, stadium, mall, and many more.
Demolition: Remove the material, glass planes, bridges / reconstruction.
Energy or Power industry: Equipment used in power industry, and oil refining
Entertainment: Providing Access equipment for Theme parks, cinemas, sporting events, and aerial space.
General Construction, Electrical, Heavy Duty, mining, and industrial applications.
Cost of Boom Lift Rental:
Many industries seek the right platform with multi-purpose access for rental services with an affordable budget for their projects.
The Price is calculated based on feet, industry, engine type, and the number of days for hire and rental.
List of Locations with boom lift price/piece with minimum & maximum cost approx.
| Location | Minimum | Maximum |
| --- | --- | --- |
| Bangalore | 4.90L | 36L |
| Chennai | 90K | 23.20L |
| Ahmedabad | 1L | 25L |
| Delhi | 1L | 25L |
| Hyderabad | 1L | 40L |
You can choose the right platform for your job with a perfect man lift.
Provider of Aerial Work Platform in the Industry:
Several key players are competing in the market with their quality service and price. Some of the providers who provide rental service for aerial lift platforms are Boom Lift Rental in Bangalore, Scissor Lift rental in Hyderabad, and Aluminium Scaffolding Rental in Chennai.
How to Choose the Best Rental Service for Your Job Site?
Now, choosing the rental service for the aerial work platform will be simple. Swastik Corporation is a supreme provider of hire and rental services for AWP by choice with 20+ years of experience in the industrial market with quality service and 100% customer satisfaction.
" A one-stop destination for all industries and factories with versatile equipment."
Resources:
How Swastik Corporation offers boom lift for rental?
Publish
Cm Sulaiman | Digital Marketing Executive
Author
Nithya | content writer