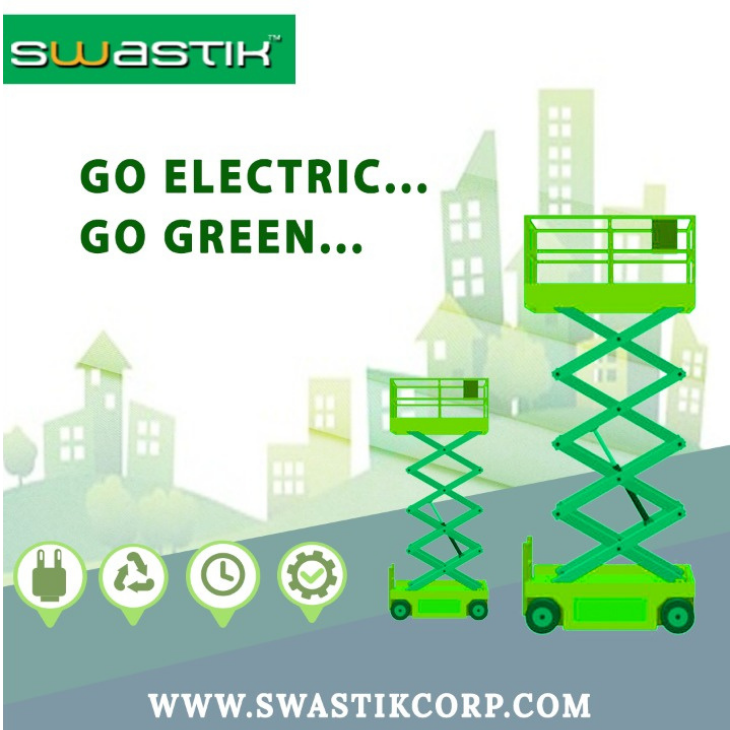 Aerial work platform Batteries
Towards the development of technology, the use of batteries plays a vital role in the powered applications of smartphones, electronic devices, and other parts of machinery associated with daily lives. On one end the batteries perform automated operations with durability, and on the other end, batteries have drawbacks over the environment.
Many Industrial sectors are using battery-powered operating systems connected with multipurpose nature, to increase their productivity with limited manpower. They store more energy to power a device and stretch for a longer period before they need to be recharged.
Heavy Equipment accessed in aerial work platforms using indoors and outdoors, prefers to choose a battery or hydraulic powered device of their choice. In this article, let's see in detail how batteries are associated with aerial work platforms.
Products of Aerial Work Platform with Batteries:
| AWP Products | Electric Power | Hydraulic Power |
| --- | --- | --- |
| Articulated Boom Lift | ✓ | ✓ |
| Telescopic Boom Lift | ✓ | ✓ |
| Scissor Lift | ✓ | ✓ |
| Spider Lift | ✓ | ✓ |
| Telehandler | ✓ | ✓ |
| Light Towers | ✓ | ✓ |
| Self loading Concrete | X | ✓ |
| Truck Mounted | ✓ | ✓ |
| Push Lifts | ✓ | ✓ |
| Mast Boom | ✓ | ✓ |
Boom Lifts:
An Aerial work platform that is commonly used in construction, bridges, and other sectors, uses battery-powered for indoor and outdoor applications and diesel-powered for rough terrains.
Scissor Lifts:
It is a type of access lift equipment that is commonly used in construction, malls, theatres, and many industries using electric devices for indoor applications and hydraulic powered for outdoor applications.
Spider Lifts:
A type of aerial work platform has the same features as a boom lift, which uses diesel-electric for indoor and outdoor purposes and diesel engines for outdoor applications.
Telehandler:
This product is equipped with an electric and diesel-powered engine for combined indoor and outdoor use.
Light Towers:
A piece of versatile mobile equipment that is used for indoor (theme park, film industry, construction work) and outdoor purposes( rescue operations, outdoor events, and industrial areas) with battery and diesel engine.
Self Loaded Concrete Mixer:
Automatic grade equipment is used mainly in construction projects to speed up the process of self-mixing concrete and cement. It uses Diesel Powered engine for outdoor operations.
Truck Mounted:
It is a type of boom lift of 4 wheel drive, 4 wheel steering with superior maneuverability that is used for underground mines and civil tunnels. Motor Type of diesel engine is commonly used.
Push Lifts:
Push lifts are the same as scissor lifts, available in battery and diesel engines used in maintenance work, electrical installation and maintenance, and in warehouses.
Mast Booms:
Mast Booms are like boom lifts that move in all directions powered by hydraulic and electric engines. Battery-powered is used in indoor applications and Diesel powered is used for outdoor purposes to avoid charging batteries.
Advantages of Electric Work Platform:
The forecast of technology in the years to come, gradually increase the usage of batteries (electric powered ) in all the industries, reducing the cost, increasing the job work in performance with multipurpose access and productivity.
Batteries in aerial work platforms recover space and accept partial charges during use.
Do not produce emissions which is environment friendly, less noise, and low fuel consumption
Flexible charging in indoor environments.
Do not cause acid leakage.
Durable and performance in means of unplanned downtime.
Electric Powered engines are used for lighter duty options.
Drawbacks of Battery- Powered Engines that can be easily controlled:
Some Batteries may be inappropriate for charging in cold environments. To avoid that, machines can be moved to warmer temperatures or can be charged overnight.
With the equipment age, batteries can be performed lower in operation. To overcome that, operators need to check the batteries and their lifetime and other parts are well maintained and can replace the batteries if required.
In addition, some batteries release toxic chemicals that impact the environment, ecosystems, and food production. To control this, choose the batteries that are inevitably less harmful to the environment to power the portable electronics.
Price of Aerial Work Platform with battery operated:
When customers are looking for aerial access equipment and needing the right platforms, solving both the purpose of their projects and budget and also concerned about where to hire and rent industrial equipment and how much the cost of the product.
Many providers in India, deliver their quality service and compete with their rivals in the market with their best in Price.
Let's look into the sample research of the approx. price list for the most commonly used AWP products of Boom and scissor lift with battery-operated machines.
| Product | Chennai | Bangalore | Hyderabad |
| --- | --- | --- | --- |
| Boom Lift Battery | 10L Min To 30L Max | 3L Min To 30L Max | 4.9L Min To 20.9L Max |
| Scissor Lift Battery | 95K Min To 25L Max | 90K Min To 25L Max | 70k Min To 20L Max |
Average cost of scissor lift range from 3L -6L
Average cost of boom lift range from 4L -10L
The price can vary depending on the location, height, number of days, purpose of the job work, and the service providers.
Key players of Operating Aerial work Platforms Global market:
Swastik Corporation
Toyota industries
CTE
Dinolift
Terex corporation
Holland Lift International
Sinoboom
Users of Aerial work platforms prefer Electric or Engine-powered and sometimes go for an effective hybrid-based engine supported by battery and diesel power devices.
The price of the fuel is increasing day by day and the electric battery is going to be an upswing in the future era as an alternative for a hydraulic engine that fits your projects and budget.
Based on the need of the customers, SwastikCorp a leading provider of aerial work platforms based in India, giving a solution for all industries and factories for the best of their choice to choose the equipment with Battery or Diesel-powered.
Additionly Boom Lift rental in Hyderabad and scissor lift rental in Bangalore are the providers specialised in hire and rental service of aerial work platforms throughout India.
Choose the right platform for your right job. Swastik corporation makes "Driving your work at heights - more easier"
Resources:
Boom Lift- Everything You need to know
How To Choose A Right Aerial Work Platform?
Publish
Cm Sulaiman | Digital Marketing Executive
Author
Nithya | content writer