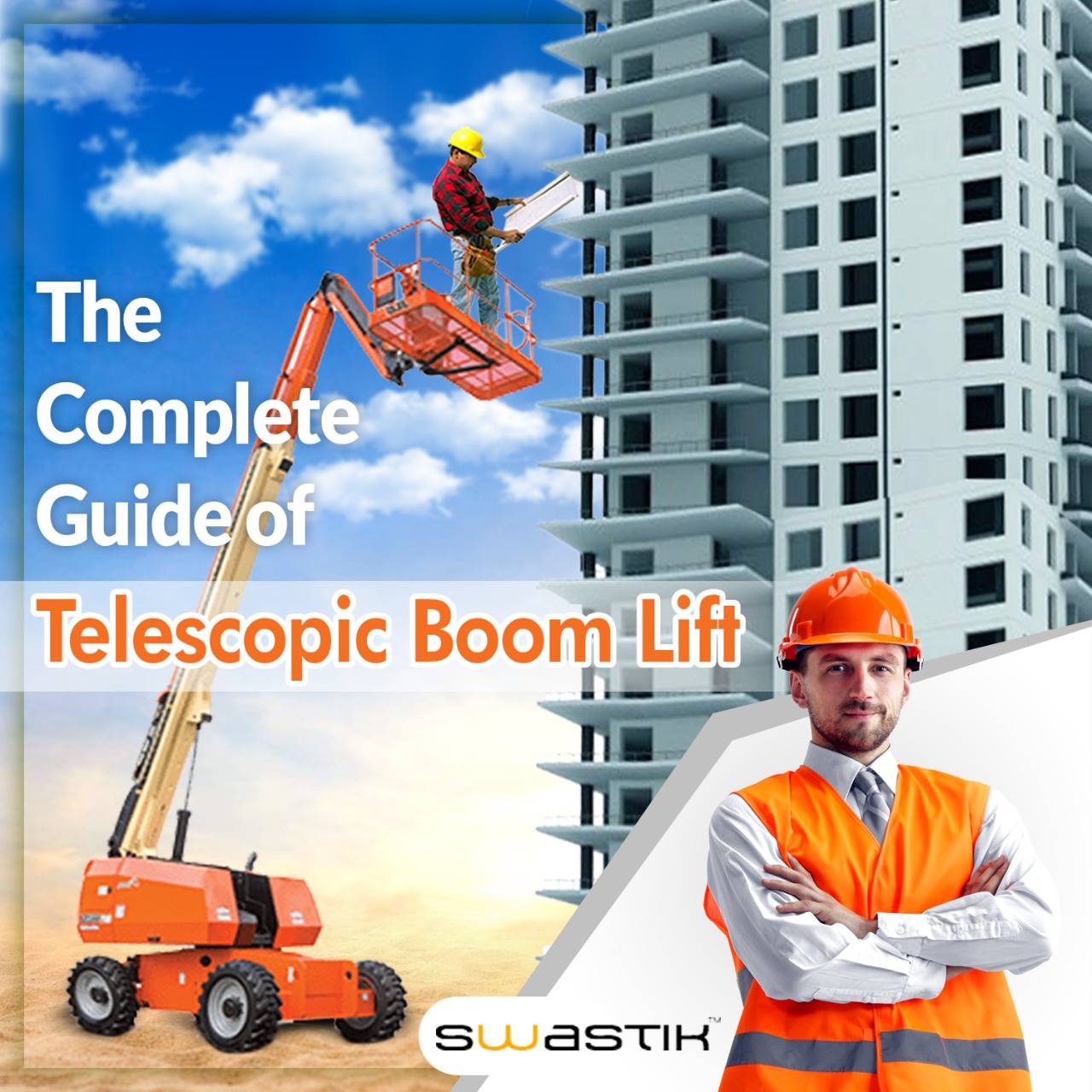 The Complete Guide of Telescopic Boom Lift
Telescopic Boom Lift is an aerial work platform and a type of boom lift used for countless sectors with a wide range of applications. This equipment is ideal for rough terrain, with greater horizontal reach to move at heights.
Telescopic or straight boom lift allows boom extension at full height. It acts as an alternative to articulated boom lift, as it moves in only one direction ensuring maximum terrain ability. It is operated by electric and diesel engines, suitable for indoor and outdoor applications, to have the right piece of equipment to get you straight to the place.
When there is a process of placing or assisting site maintenance, lifting, or other roles in the industry, Telescopic Boom Lift is an integral part of the construction industry and heavy-duty sectors.
Industry Applications For Aerial Lift Equipment:
Telescopic Boom Lift is used in various industries, to help people complete the job work efficiently, robustly, rapidly, and safely.
Energy: Straight Boom lift is ideal for workers for installation, inspection, and maintenance.
Entertainment: The versatile equipment is perfect for theme parks, movie sets, stage or stadium, and sporting events.
Construction: Telescopic aerial work platforms are used in diversified sectors in and around construction sites.
Heavy Construction: When relying on booms for every phase, a telescopic boom lift gives you reach.
Mining: An Aerial work platform that is used in the maintenance and construction of a mining site.
Demolition: Telescopic boom lift requires more space where difficult terrain or immovable objectionable to access work from a distance.
Other industries that are using telescopic boom lifts are aviation.
Benefits of Telescopic Boom Lifts:
Greater Horizontal outreach
Rigid work platforms
Maximum Traction and Stability
Emergency stop functions from work platform & ground control.
Powerful hydraulic outriggers.
The Drawback of Telescopic boom lifts:
The disadvantage of a telescopic boom lift is instability. Due to this, the operator should be cautious of safety measures, when working with straight booms.
Articulated vs Telescopic Boom Lift:
| Specification | Articulated Boom Lift | Telescopic Boom Lift |
| --- | --- | --- |
| Boom Type | Articulate | Straight |
| Height | Tight areas | Taller Heights |
| Powered Souce | Battery & Diesel | Battery & Diesel |
| Applications | Good for Working Indoors | Good for Outdoor spaces |
| Maneuverable | Good for Moving over obstacles | Ideal for working at a distance |
| Terrain | Ideal for Rough Terrain | Ideal for Rough Terrain |
Boom Lift Can Reach : 30 feet to 185 feet long.
Telescopic Boom Lift Price in India:
With the flexibility, and the nature of the job, telescopic boom lifts are ideal for more confined spaces and trouble reaching lifts. It is the best option for outdoor applications that can operate with electric and hydraulic source engines.
Many key players provide rental service for aerial work platforms, and customers need to choose which platform that fits for their projects to complete with the deadline.
How much does a telescopic boom lift cost?
A few location-based prices in India are mentioned. The cost may vary depending on the height, purpose, operator source (diesel/battery), indoor or outdoor use, and the number of days for telescopic boom lift hire and rent.
| Location | Min / Piece | Max / Piece |
| --- | --- | --- |
| Chennai | 90K | 35L |
| Bangalore | 1L | 36L |
| Hyderabad | 1.5L | 35L |
| Ahmedabad | 50K | 20L |
| Noida | 1.36L | 28.5L |
Providers of Telescopic boom lift:
Swastik Corporation
Genie
JLG
Sinoboom
MEC
Niftylift
Prangl
Riwal
JMS Powered Access
Maxpull Machinery & Engineering Co. Ltd
The telescopic boom lift for hire and rental endeavors appropriate solution to the complex challenges and thrive the market size projection over the analysis from the year 2019 to 2025.
With more demand in the industry sector, Swastik Corporation - a leading provider of aerial work platforms in India, emerging a better solution with world class engineering service through a continuous focus on safety and security.
Based on the need of the customers, SwastikCorp a leading provider of aerial work platforms based in India, giving a solution for all industries and factories for the best of their choice to choose the equipment with Battery or Diesel-powered.
Many providers are serving access lift equipment - Boom Lift rental in Hyderabad , Scissor Lift Rental in Bangalore, and Aluminium Scaffolding Rental in Chennai earning with customer confidence and trust.
Swastik Corporation thrives a Reliable Access Equipment to work Safe at Heights .
Resource
Publish
Cm Sulaiman | Digital Marketing Executive
Author
Nithya | content writer