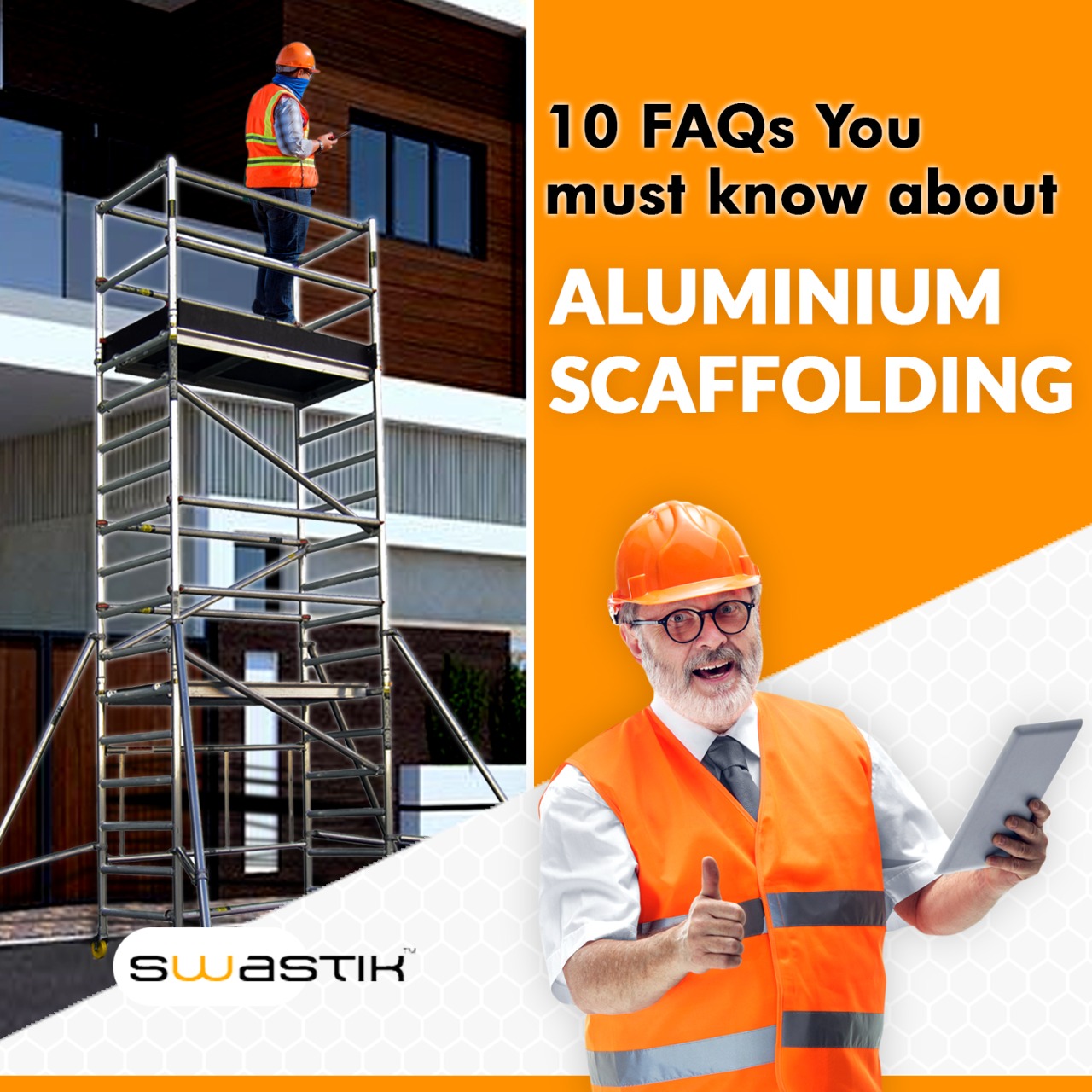 10 FAQs Must everyone know about aluminium scaffolding
An Aerial Work Platform that helps workers to reach heights and are used for a variety of reasons. Common Aerial Work Platform applications include
Construction & maintenance
Aviation
Installation
Indoor Repair & warehouse
Electrical Line Repair
Cinematography
Stadium
Entertainment
An indispensable piece of equipment used in indoor applications that are portable, convenient, and safe is Aluminium Scaffolding. In this blog, let's dive into common frequently asked questions for Aluminium Scaffolding.
1. What is Scaffolding?
Scaffolding also known as Aluminium Scaffolding or Mobile Scaffolding, a temporary aerial work platform used to support workers and materials to aid in the indoor applications of construction, maintenance, and repair of the buildings with safety and security.
Scaffolding is an alternative for ladders, and it is easily assembled based on the heights.
2. How many types of scaffolding are available?
Trestle Scaffolding- A movable equipment used for house works like paintings and repair works.
Single Scaffolding - also known as bricklayers scaffold and mainly used for brick workers.
Double Scaffolding - also called Independent scaffolding and mainly used for stone masonry work or construction work.
Cantilever Scaffolding - is also known as needle scaffold. It has a platform attached vertically allowing workers to stand and perform their tasks. It is of two types. 1) single frame scaffolding and 2) double frame scaffolding
Patented Scaffolding- It is set on wheels and easily assembled and dismantled. The Working stand is arranged and workers can easily adjust according to the needs. Suspended Scaffolding - This scaffolding is used when working on tall buildings especially when the height is above 30 metres from the ground.
Staircase scaffolding - It is a type of scaffolding used in construction. Typically replacement of ladder, when workers can carry tools and perform tasks with safety at specific heights.
Kwikstage Scaffolding - A modular scaffolding type, used for complex situations with a stable vertical system.
3. What is Scaffolding used for?
Scaffolding is mainly used in construction, repair, cleaning, or maintenance work used to elevate the workers to carry their materials, and versatile platforms to perform their job with safety and security. It is used in indoor and outdoor applications depending upon the heights and heavy or light-duty jobs.
4. How Much Does Scaffolding Rental cost?
Every customer will have a query about the cost or the price of an aerial work platform that is right for their job work at an affordable price.
Avg. Market Price of Aluminium Mobile Tower Scaffolding Rental is Rs 45,000/ Piece in India. The rental cost varies from different companies in the market and buyers need to check and compare the available rates with the most affordable price at your budget.
5. What is Scaffolding in Construction?
Scaffolding is an interim structure used to assist concrete framework, supporting the laborers in the construction industry of brickwork, paintings, repairs, installations, and other in-house electrical works.
6. What rules should you follow when working with mobile scaffolds?
A few rules to keep in mind when working with scaffolding.
The First level of inspection is to ensure there are physical defects in the scaffold before use.
Ensure all the sections are pinned or securely fixed.
Maintain minimum load on a scaffold.
Always uplift the heavy tools and materials, rather than carry up with the worker.
Check the working platform capacity and do not overload the person, and stand on the same side.
Don't move the scaffold with a person.
Check the security when assembling the parts of the scaffold.
JMS Powered Access
After using the scaffold, dismantle it with care.
7. What is the base to height ratio for mobile scaffolds?
The base to the height ratio is 1:4, meaning the height of the scaffold should not be greater than 4 times the base width.
8. When is scaffolding required?
When workers are required to perform a task at a certain height.
Scaffolding can be used for a couple of days of work or above, as it would take time for setting up and dismantling. I.e. It is used for long-term projects.
Scaffolding is used for ample jobs that allow multiple people to work at the same time, for carrying and dropping materials.
9. How to erect a scaffolding tower?
Scaffolding can be erect in two ways,
When temporary guardrails are locked in a place from the ground level and move up to the platform level.
The operator can take up the working position in the trap door, from there they can add or remove the components.
10. How to dismantle scaffolding?
Before the dismantling of the scaffolding equipment, the first step is to clear the space for keeping up the dismantled pieces.
Check each platform ensuring the wood platform is not damaged during construction.
Place all the necessary safety gears required.
Start the dismantle project from the top, pass the materials from person to person in a chain formation.
The ties hold the structure of the building to be removed once the complete platform is removed.
Inspect all the components that are safely removed. Any damaged pieces should be stored aside and can be replaced for later use.
Choosing the right aerial work platform for a job involves many aspects.
Swastik Corporation, a leading provider of industrial lift equipment in India offering premium quality products, available to perform different types of jobs that are suitable for your requirements.
Additionally, Boom Lift rental in Hyderabad, scissor lift rental in Bangalore, and aluminium scaffolding rental in Chennai, are providers of aerial work platforms serving all your industrial needs.
Resource
Publish
Cm Sulaiman | Digital Marketing Executive
Author
Nithya | content writer