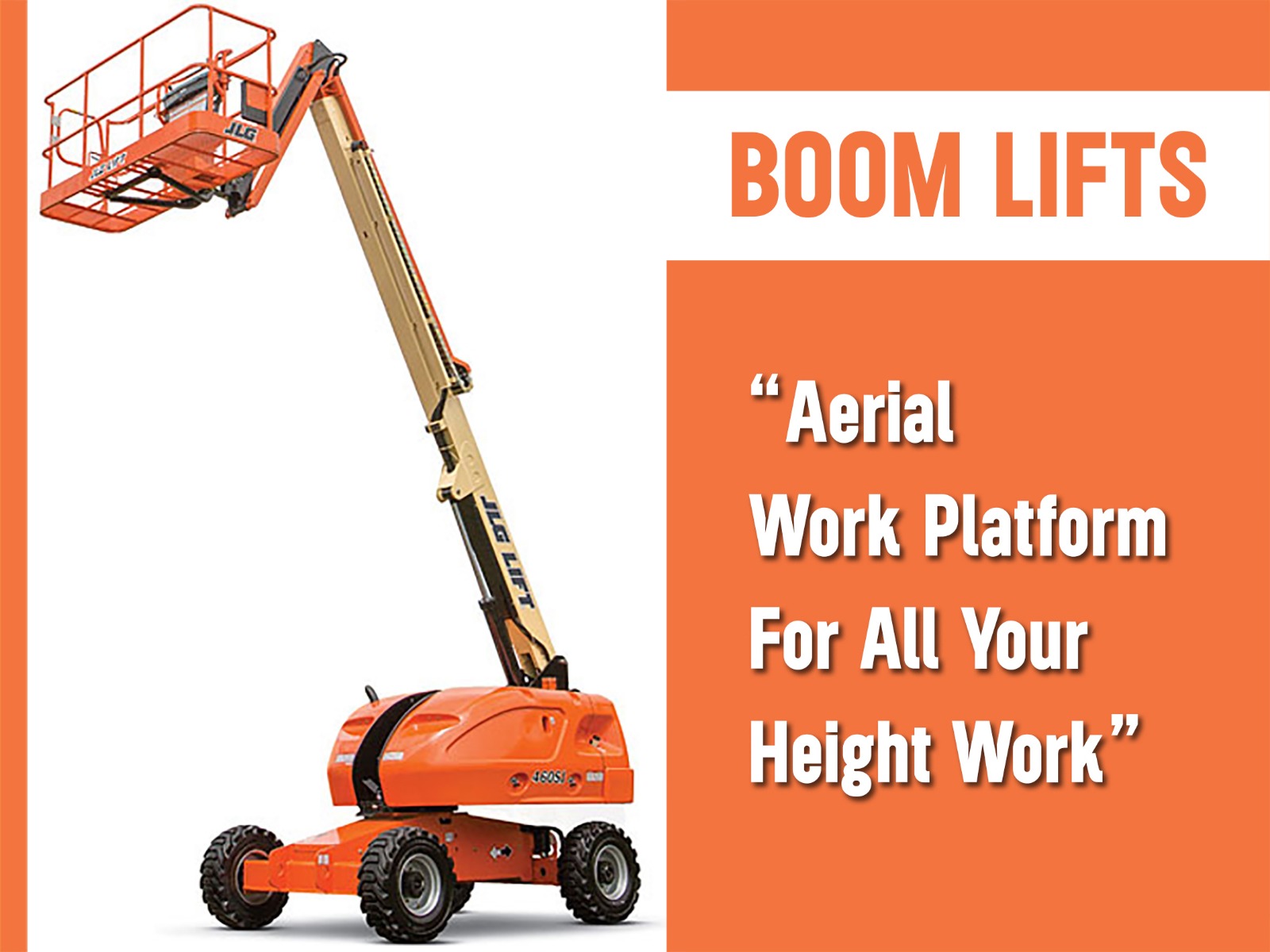 How Aerial Work Platforms Can Help Your Job Site Safety?
Aerial work platforms are widely used to access height safely and efficiently to perform work at height jobs with ease and safety. Various types of aerial work platforms such as scissor lifts, boom lifts, spider lifts, and vertical masts are available on the market to meet the needs of different job site requirements.
Boom lifts offer great flexibility for work sites in that they can be positioned at complex angles, making them ideal for working with tools and other materials at height.
Articulated Boom lift and Telescopic Boom lift. Read below to find what differences between the two and learn how to choose the right boom lift for working at height.
There are two types of Boom lifts. They are Articulated Boom lift and Telescopic Boom lift. Read below to find what differences between the two and learn how to choose the right boom lift for working at height.
Telescopic boom lift
Telescopic boom lifts, also known as straight boom lifts provide extended reach, which is attached to the lifting frame. Some models can reach heights of 210 feet. These aerial lifts or Mobile Elevating Work Platforms (MEWPs) are used when crews need to work at significant heights or access areas blocked by rough terrain.
They are suitable for a wide variety of jobs including industrial maintenance, electrical work, painting, glazing, bridge or inspection work, tree trimming, and any job that requires accessing the building from multiple floors. The telescopic boom extends quickly and the forklift can be driven with the boom fully extended in certain positions. Telescopic forklifts are often used at outdoor construction sites such as electrical works, painting, bridges, or other jobs that require high or remote accessibility.
Telescopic boom lift advantages:
Ideal for use over a distance


Carries out numerous tasks


Increases production rate


Facilitates high reach for some industries.


When performing specific tasks going far (up to 210 feet)


Using elevated work platforms to lift high platforms


Articulated boom lift
Articulated boom lifts are aerial machinery used to access hard-to-reach areas. Most models have a basic 360-degree turntable that allows them to rotate in any direction. A knuckle boom, also known as an articulated boom lift, has a single arm with several sections separated by joints.
The arm can move the work platform over obstacles. This type of aerial work platform is used when workers need to access a particularly narrow or hard-to-reach area or when workers need to change positions frequently.
The tallest articulating boom lift available today has a lift height of 150 feet and a reach of 75 feet. This boom has less horizontal reach than a telescoping boom but it is more versatile in terms of vertical and horizontal flexibility. Since they can fit through tight spaces or across narrow walkways articulating boom lifts are perfect for indoor and outdoor work. They can be used for maintenance tasks like plumbing and ceiling repair as well as scanning in warehouses which are frequently cluttered with stacks of inventory.
Articulating boom lift advantage:
Permits confined workspaces


Reaches challenging positions


Masters in different types of terrain, including indoor and outdoor


Increases breadth and reach by employing extended joints


Jobs that regularly need to change your lift posture


Working in a more compact or congested area


Upright workstations


How to Choose the Right Boom Lift Provider for Aerial Work?
There are many providers of aerial work platforms in India offering rental or sale for short-term and long-term projects in diversified industries.
Swastik Corporation, a leading boom lift provider in Chennai industrial lifting equipment in Chennai, India, offers good-condition machines with world-class engineering services and the ability that you are looking for all your industry requirements and has extended its services over metropolitan cities like Hyderabad, Bangalore, and Chennai.
Author
Deepana L | Vignesh Narayanan R | Digital Marketing Executives